CMT Premiere: The Reklaws and Drake Milligan Headed To Romania To Give "Honky Tonkin' About" a "Back To The Future" Vibe
The singers said they "felt like actors... in a Hollywood movie" shooting the video.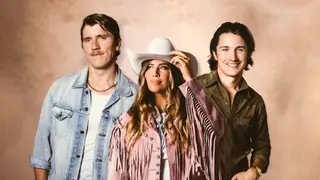 Brother-sister duo The Reklaws and "America's Got Talent" alum Drake Milligan leaned into nostalgic pop culture for the video for their new song "Honky Tonkin' About," creating a "Back To The Future" vibe – and they shot it in Romania.
"The story starts in the present day where you see us sitting out front of a venue waiting for our ride... but instead of an Uber, a horse and carriage shows up with none other than Christopher McDonald as the driver (you may know him as Shooter McGavin from Happy Gilmore)!" The Reklaws said. "He transports us back in time, and we find ourselves on stage in an old bar playing 'new country' music to a bar full of surprised and confused people from the 1800s."
As they played the song, the people in the saloon fell in love with the new country sound, which is more traditional than much of today's contemporary country music.
"The song comes to life in this bar, people dancing, drinking and singing along... because that is what they are 'Honky Tonkin' About,'" the duo continued. "On top of that, there are stunts and more celebrity guest appearances that have made this video not only our best yet but a memory we will keep with us forever."
They said McDonald was "a joy to work with" and "brought so much to the set."
Milligan added that he'd spent much time in honky tonks and enjoyed the old-west energy in the video.
"' Honky Tonkin' About' is a party song, a song to share with your friends at home and with strangers in a Honky Tonk setting, and this video really captures the joy that can be had from country music," he said.
Callum Maudsley, Blake Redferrin, Thomas "Tawgs" Salter and Stuart Walker wrote the song and Salter and Todd Clark produced it. Leslie Greif is the video's executive producer, with Mike Kozelj and Cristi Bostanescu serving as producer and Mac Grant, Chad Tennies and Ben Knechtel directing.
"Shooting this video in Romania was absolutely crazy!" The Reklaws said. "We were told a week prior that we would be flying halfway across the world to film the music video and will remember it for the rest of our lives."
They said a core memory from the days of filming is the bar scene where 30 extras were dressed in 1800s-style costumes. The musicians had to perform like they didn't know where they were. It wasn't a far stretch because they didn't.
"Watching this song come to life, in this big of a way, is a memory we will hold on to forever," the siblings said. "Those three days were like nothing we have ever experienced and we're so glad it is documented.
Milligan hopes people have a "rip-roarin' honky tonkin' good time" when they see the clip – just like the artists did while filming it.
"Country music is all about comradery and shared experiences, and I'm so glad I got to share this experience with The Reklaws and now the world," he said.
The Reklaws hope fans feel like they're watching a movie when they see it.
"The work that the director(s), actors and performers put into this was something special to watch and even more special to be a part of," they said, explaining they were completely shocked when they saw the finished product.
"We felt like actors... in a Hollywood movie," they said. "Watching this made the 12-hour flight, three days of craziness, and the flight home for shows so worth it! We cannot believe how much this is more than a music video – it's a movie – and an amazing one at that. We cannot wait to share this with the world!"