WATCH: Luke Bryan Teams Up With Comedian Danae Hays To Prank Call His Mother
Country music fans now have the chance to win the keys to his pick-up truck and tickets to Crash My Playa music festival in Mexico – check it out!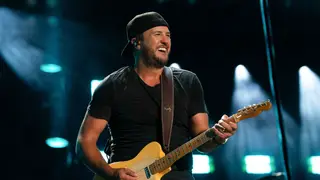 Country music superstar Luke Bryan is a jokester at heart.
In early December, the hitmaker and his wife Caroline began "Pranksmas," a hilarious social media series. Each day leading up to Christmas, the country couple have been pulling pranks on each other and loved ones. 
Their most recent target was LeClaire Bryan, his mother. The two called in critically acclaimed comedian Danae Hays to execute the joke. The supportive mother fell victim to their not-so-nice prank phone call, where Hays pretended to be a malicious woman named "Sharon." 
Hays' fake persona was out to tarnish Bryan's reputation with scandalous photos. When LeClaire pleasantly answered the phone, the comic used a thick southern accident to explain her evil motive. 
"I need you to listen to me, LeClaire. S­–t is about to go down. I need you to hear me out, alright? I got some photos of Luke, and they ain't they ain't gonna shine him a good light, you know what I'm saying," she uttered. "I have a buddy down in Nashville, and I'm about to unload these photos. Now, you are going to talk to me today, before s­–t is about to hit the fan," she added while Bryan and Caroline held in their laughter. 
Before Hays could finish her skit, LeClaire hung up and immediately called her son. Bryan was fast to put the phone call on speaker and answered nonchalantly. In full rage, LeClaire explained the situation to Bryan. While swearing, LeClaire rattled off her concerns and why she didn't want "Sharon" to call her again. 
Bryan initially hesitated to break the news to his worried mother, until Hays grabbed the iPhone and confessed her secret. 
"Hey, LeClaire? LeClaire, this is Sharon. I'm sitting here with Luke," said Hays. "Mom, we're f­–king with you," uttered the vocalist through a beaming smile. 
In less than 24 hours, the clip garnered 806K views and 51.5K likes on TikTok alone. Country music fans dubbed the prank their "best one yet." 
"Y'all crazy as hell, and we love it," gushed a listener. "It's gonna go DOWNNN," said singer Dylan Scott. "Lordy mercy, that was too fun! But I am sorry @leclaire.bryan😂," added Hays. 
Hays rose to stardom on TikTok and gained a loyal community of over 2.3M followers. The Nashville-based comedian is best known for her impersonations and prank calls, where she channels her alter-ego "Sharon Jean." 
This is not the first time Bryan's mother fell for his spontaneous tricks this year, as they made her read a string of words that formed an inappropriate phrase. Other pranks thus far included an air horn, a fake injury, and more.
Although their short videos will have fans chuckling, the two use their powerful platforms and wit to make a difference. On "Pranksmas Day 4," Caroline joined forces with E3 Ranch Foundation to put her husband's truck up for auction to aid their philanthropic efforts.  
"@e3foundation and I stole Luke's truck, and we put it up for auction!! Go to lukegivesback.org to enter to win his truck and other awesome prizes!!!" she wrote on Instagram. "Help support our combat warriors, fight against human trafficking, and support those in crisis. The deadline is Dec. 27th!"
The winner will be selected on Wednesday, January 4. The lucky fan will receive the keys to his beloved GMC, and tickets to his music festival Crash My Playa in Mexico. For additional information and to enter, visit lukegivesback.org.