Jackson Dean Talks Upcoming Tour With HARDY: "Blow Some Speakers And Have A Good Time"
Jackson Dean makes history at Country radio with his No. 1 single "Don't Come Lookin'" – LISTEN!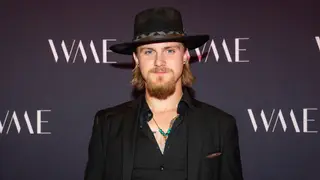 Country music star Jackson Dean is gearing up for a tour of a lifetime with country rocker HARDY.
The "Fearless" singer is slated to join HARDY's headlining Wall to Wall Tour. Dean and the award-winning songwriter kicked off the eight-night-only run Thuesday night (Dec. 1) in Athens, GA. Ahead of the highly anticipated performance, Dean caught up with Big Machine Label Group to reveal his plans and what fans can expect.
Throughout the last few months, Dean has been opening for hitmakers like Lee Brice and Brooks & Dunn. Although arenas have become Dean's new normal, he's looking forward to playing at scaled-back clubs and bars nationwide.
"It's gonna be a different thing than what we've been doing for the past year, which has been arenas and outdoor sheds and amphitheaters," explained Dean. "We had a great year out there, but now we're gonna take that show, and a little bit more of what we do and put it in a club."
Dean said that he's eager to connect with fans on an intimate level.
"Be able to feel their breath on us, and have 'em right on top of us, and really see the whites of their eyes, which is gonna be so much fun," he said.
He continued to acknowledge HARDY's sonic shift, as he recently leaned more rock in his latest releases – "Truck Bed," "the mockingbird & THE CROW," and "JACK." In 2023, HARDY is expected to drop his sophomore record, which is expected to strike a fine balance between his deep country roots and his passion for gut-punching Rock & Roll. The hitmaker believes the forthcoming collection is his "best work so far."
Dean mentioned that he's ready to meet HARDY's high energy and pointed out that his bandmates are more than willing to put in the work to make an unforgettable show.
"The fact that he's doing that heavier stuff right now, we're pretty heavy when we play live. We're four dudes where we've gotta do the jobs of two people," shared Dean. "Like my bass player's doing synth and playing bass. And Brandon's playing lead guitar and rhythm and singin', and Sean, all of his extremities are goin', and we just make as much noise as possible," he added.
The crooner says that stepping in as direct support was a power move, as he believes they are a match made in heaven. Dean warned fans to buckle up, because he's ready to tear up the stage.
"I think it's gonna be a really good fit, and I'm gonna go head bang and blow some speakers, and have a good time," he concluded with excitement.
The Wall to Wall Tour will run until Dec. 17 and will hit notable venues in South Carolina and North Carolina. For one-night-only, rockers Puddle of Mudd will make a grand appearance. While out on the road, Dean will perform his single "Don't Come Lookin'."
The foot-stomping track recently (Nov. 28) went No.1 on Country radio. Dean became the "highest debuting new artist" on the charts since 2015.
"It's hard to wrap my head around," said Dean in a statement. "I wrote this with Luke Dick, my co-producer, as a way of explaining who I am and what I value to people. I never thought of the song in any terms except trying to show people – as a new artist – who I am. The idea it's No. 1 tells me a lot more people value that sense of getting out there and getting lost than I'd've ever imagined, which is pretty cool."