Jelly Roll Shares The Selfless Way His Wife Helped Him Get Custody Of His Daughter
Jelly Roll: "Bunnie bankrolled the whole shit, and she never talks about that."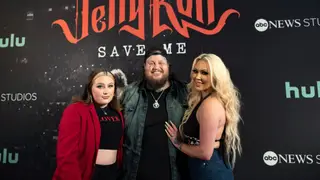 On the heels of the release of his debut country album named after his childhood church in Antioch, Tenn., "Whitsitt Chapel," Jelly Roll is opening up about the crucial role his wife, Bunnie, played in his life in the early days of their relationship.
Bunnie was a sex worker at the time, was more financially secure than Jelly Roll and ensured he had a safe place for his daughter, Bailee, to live and go to school when he got full custody of the child.
"I have to sit Bunnie down and go, 'Look, I have a kid that you know about that I'm fixing to have to get full custody of,'" he recounted on a recent podcast, Bussin' With the Boys. "'There's also a woman out there that's pregnant with a kid.' Bunnie is just like, 'Whew, man, that's a lot.' She was like, 'But I got you.'"
The heavily tattooed, burly ex-con got emotional as he explained how Bunnie made sure he could care for his daughter – before she was convinced she'd be with the singer long term.
Jelly Roll was homeless and living in a 1996 van. He knew he couldn't bring his daughter home to a van. He couldn't rent a place because he was a felon and didn't have proof of income to buy a house in the right school district. He also didn't have money for a lawyer.
"She's like, 'Well, the first thing we have to do is get you somewhere to live in Nashville," Jelly Roll recounted. Then he explained the hurdles he faced because of his prison record and no proof of income.
"Bunnie's like, 'Let's just go get a condo so you have a bedroom for her.' I'm like, 'Alright, cool.' So Bunnie comes down there. We're getting a condo. I'll never forget, Bunnie looked at me, and man, it makes me emotional. She said, 'No matter what happens with us, I'm gonna help you get this little girl."
Jelly Roll was impressed by the character Bunnie showed in the situation – to devote herself and her money to the child of a man she wasn't sure she had a future with.
"Bunnie bankrolled the whole shit, and she never talks about that," Jelly Roll said.
Bailee's mother was an addict – a story familiar to Bunnie. Her dad was a musician. Her mother was a stripper. And she said she's the product of an addict. She said her biological mother left her on a doorstep, and she didn't meet her until she was 36.
"It spoke to my heart," Bunnie said. "When we went over to Bailee's mom's house — and this was in the midst of all this — I walked in, and Bailee didn't even have a bed. She was sleeping on a chair. And she was there taking care of her two, two, or three little cousins, making them food. Literally, all she was doing was making them bread with peanut butter on it. And it broke my heart."
Bunnie said deciding to help was the best decision she ever made because "now I've got my little family."
Jelly Roll and Bunnie have been married since 2016.
Jelly Roll is a CMT Award winner who has amassed more than 4 billion career streams to date. He scored his first No. 1 on country radio charts with his first country single, "Son Of A Sinner." Now that "Whitsitt Chapel" is out, the genre-jumping singer will head out on his 44-city Backroad Baptism Tour, which launches July 28.
If his touring show is anything like the Nashville concert where he filmed his "Need a Favor" video, fans are in for an unforgettable night. Jelly Roll oozes attitude and gratitude from the stage as he bounces between genres and returns all the energy the audience gives him in spades.
And he hopes to direct all of them to his hometown church "Whitsitt Chapel" should they ever be in Nashville – which is why he named his album after the church.
"It's a conceptual record," he explained of the collaboration. "I'm still a romantic when it comes to that. I'm still old school. I love albums."
He hopes the album makes the church a destination.
"Listen, man, if I'm getting people to go to the church, I'm doing something right," he said. "I don't care if it's to take a picture or not. Boy, I did something right."