Russell Dickerson's "Every Little Thing" is Every Bit of Feel-Good Now
See the CMT Premiere of Dickerson's New Video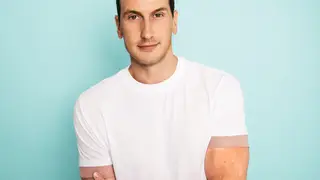 Events like the NFL Draft give every tourist in town an all-access pass to its musical underground if one knows where to look.
Anywhere an artist plays in Nashville this week scored a key performance slot in an ultimate football-music fantasy world, and there is no such thing as a bad time slot.
So, football fans, on behalf of all the future Russell Dickerson's out there, please, don't forget to tip the bands and your servers. Make sure there is at least one zero on the end of whatever dollar bill you leave in the tip jar because every Nashville professional out there making it big now has pulled at least one a night shift at some point in their musical life.
Dickerson, 30, knows all about this as a Tennessee native and 22-year Nashville resident. He is a CMT Listen Up alum. He's currently having a moment with his latest single, "Every Little Thing," and he has an enviable summer ahead on tour with Thomas Rhett and Dustin Lynch, and a performance on Friday (April 26) at Stagecoach. Not only is it the third single from his debut album, Yours, it's the dose of feel-good we need to get us through the weird hours after midnight on central time. It's the best time to hear new country music on the radio anyway.
Enjoy more from this Tennessee song boy in his own words below:
CMT.com: Who was the first artist to believe in you and change your life forever?
Dickerson: I would say Florida Georgia Line. I've been writing songs with them back before any of us had anything going on, and they have been like big brothers and champions to me through my entire career.
How old were you when you realized music was what you wanted to do for the rest of your life?
Once I got my license. My friends and I would drive downtown in Nashville to literally go see any show possible. I was hooked on that live show energy from that moment on. And I knew that I wanted to be that guy that was onstage and leading the crowd.
What does it mean to you for others to recognize themselves in your art?
It's honestly one of the most rewarding parts of all this. When people, especially guys, come up to me and say how my music has helped them express their love and feeling to someone they love so much, there's no better feeling as a songwriter and an artist.
What has been the best advice you've been given in your career so far?
Just being genuine and humble. People can see through the slightest BS and just being yourself and being humble will get you further than any fake anything ever will.
Are there any artists you've always wanted to work with?
Garth, Usher, Timbaland, Ludacris, 2 Chainz!
Tell me about your first Nashville gig.
It was upstairs at a coffee shop called Bongo Java. I think there were like five people there, and I literally finished writing a song right before I walked out of my Belmont dorm and over to the coffee shop. It [ended up becoming] the song "Driving In The Rain" on my very first EP.
What has been your most interesting side hustle?
I just started a video series on YouTube called "This Is Russ!" It's basically a super raw look at everything that happens off stage living this crazy life!
Up early, sunshine, delicious cup of coffee, a morning fire, write an awesome song, have a dinner date with my wife with a bomb bottle of wine then fall asleep to some Netflix on the couch.
What's your writer's relief?
TRAP! Just putting a nasty trap beat on to freestyle over is my favorite mind cleanser for sure!
What venue changed everything for you?
The Grizzly Rose in Denver. The first time we played there was easily our biggest show and all of them were there for me. Not just to drink, they were singing every word. That was really the first time that many people showed up to sing my songs. It really rocked me and gave me a whole new fire to keep pursuing this dream. Then next time we came back we sold it out! And we got this awesome belt buckle to commemorate!
Any venues on your bucket list?
Red Rocks! Madison Square Garden.