Sawyer Brown Celebrates 40 Years With Blake Shelton-Produced Album And Documentary
Blake Shelton on Sawyer Brown: "It was a new thing, something like I'd really never heard before. Sawyer Brown defined '90s country. Garth is going to be pissed when he hears that."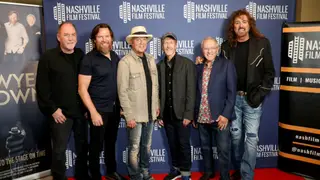 Sawyer Brown is known for hit songs, including "All These Years," "Some Girls Do," "The Walk," "Thank God for You" and more. The group has spent four decades in country music, entertaining fans with their high-energy shows, infectious melodies and heartfelt ballads. Singer Mark Miller would bound on stage in his Panama hat brimming with enthusiasm and signature dance moves that kept fans on their feet all night.
To celebrate the group's 40th anniversary, Sawyer Brown filmed the new documentary "Get Me To The Stage On Time," which follows the band from its time on "Star Search" to the present day. "Get Me To The Stage On Time" premiered October 1 at the Nashville Film Festival. Blake Shelton served as executive producer on the doc and produced the band's new album "Desperado Troubadours," which will be out on March 8. Sawyer Brown's lead single from the album "Under This Ole Hat" is out now.
"It was a new thing, something like I'd really never heard before," Blake Shelton said of the band's music. "Sawyer Brown defined '90s country. Garth is going to be pissed when he hears that."
Miller's reasons for wanting a documentary about the band are personal – he wanted to document the band's path for his children and grandchildren. His daughter, Madison Brown, has a production company and wanted to head up the project, and her proud father said yes. Brown wrote, directed and produced "Get Me To The Stage On Time."  
When the singer sent the documentary to the band's former guitar player, Duncan Cameron, he was shocked to learn some things about his former group. The band's other former guitar player, Bobby Randall, felt the same.
"It's really a pretty complete story of the 40-year path," Miller said. "And I love the way she ended it with us doing the new album with Blake Shelton and to say, 'Okay, this is 40, but it's not over.'"
The connection with Shelton sprung from The Voice coach's frequently voiced adoration of the group. Miller read a magazine story in which Shelton praised Sawyer Brown and asked him to get involved with the album and documentary on a whim. Shelton said yes within five minutes but was concerned because he doesn't have a history of producing.
"I said, 'You have incredible instincts,'" Miller recalled. "I said, 'That's as much as any producer does in the studio.' And he said,' Man, I just have to tell you … you're my hero. I want to do this, and I'm signing on."
Miller went to Oklahoma and spent the day with Shelton. While there, he was surprised at Shelton's depth of knowledge of the group. It let him know that Shelton had been a fan of Sawyer Brown for a long time and that they had chosen well in him as a partner.
"He says, 'I saw you guys and knew this is what I want to do,'" Miller recalled. "He said,' I saw you doing hand signals to Joe, the drummer.' He said, 'I was just picking up on everything. That was the first time I knew this is live. This is happening right now. This is spontaneous. This is not rehearsed.' He remembered things from that performance that was really kind of uncanny."
Miller said Shelton was the first one in the recording studio every morning, the last one to leave at night, and that his instincts saved songs on several occasions.
As for what fans can expect from the album – Miller said there are no surprises.
"We did not want to chase something new," he said. "We knew it was going back to our fan base. When you listen to this record, I think you're going to hear Sawyer Brown, the Sawyer Brown that you want to hear, that you expect to hear. You're going to know it's us."