Cody Johnson Talks Possible Jelly Roll Collaboration
Cody Johnson: "Respect is mutual, and real recognizes real."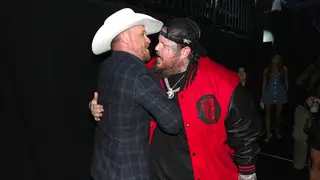 Cody Johnson has his eye on a new duet partner – Jelly Roll. And while it might seem like the clean-cut Texas cowboy and the heavily tattooed former inmate don't have much in common, Johnson said the assumption is shortsighted.
"Respect is mutual, and real recognizes real. So absolutely, we've talked about working together," Johnson said backstage at CMA Fest. "You guys may not look at me and realize this, but I have a pretty jaded past as well. I've always said there was a time in my life where I had to make a decision, and that decision was either to chase this dream professionally with a good mindset. There's a few mistakes that I've made in my life — there's a few decisions I've made in my life where I could have wound up here, or I very well could have wound up in jail."
Instead of being sentenced to a jail cell, Johnson worked as a prison guard.
"I have a very thick background on incarceration," Johnson said. "Jelly did time. We've talked about that. We struggle with a lot of the same pressures. We put so much pressure on ourselves to be the best husband, to try to be the best father, to try to be the best leader, to be the best performer…it's almost like a blessing and a curse because we put so much on ourselves."
Johnson said the men relate to each other and that it could be an "opposites attract kind of thing." While it seems that a Jelly Roll collaboration isn't a done deal yet, Johnson has already revealed that he recorded a duet with Carrie Underwood for his upcoming double album "Leather."
The singer told Audacy's KMLE Country 107.9. the 24 songs he recorded for "Leather" are his favorite batch of songs that he's recorded.
"Each album should outdo the last one," he said. "There's some fun stuff. I think the theme of this new album is fun. It doesn't matter whether it's a ballad or whether it's tongue-in-cheek kind of fun. It all has to be fun; it all has to make you kind of want to move around and bob your head a little bit."
Over the weekend, Johnson got fans talking with another collaboration. He joined Reba McEntire on stage at CMA Fest to sing "Whoever's In New England."