Jelly Roll Teams With Apple Music for New Song "Dragging These Roots" To Launch Lost & Found Program
Famed songwriter Lori McKenna will host a new Lost & Found radio show on Apple Music.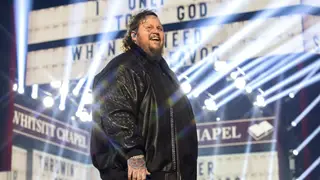 Jelly Roll is teaming with Apple Music to launch "Lost & Found," the streaming service's new music program focusing on Nashville songwriters by sharing previously unreleased songs.
"At Apple Music, we are passionate about celebrating and championing artists and creators," said Kelleigh Bannen, Apple Music Country's host, in a statement. "From advocating for the songwriters to highlighting the enormous wealth of untapped music, Lost & Found is emblematic of what we do every day, not just here in Nashville, but worldwide. We're so excited to continue marching towards that mission and look forward to inviting incredible artists to partner with us in unique ways like this."
Apple Music worked with the songwriting community to find and release six lost demos that country stars will rerecord. The "found" songs will live on Spatial Audio, available on Apple Music.
The program started today, and Apple Music will release a newfound recording every month. Jelly Roll's version of "Dragging These Roots," written by Ben Hayslip, Josh Thompson, and Jesse Frasure, is the first.
Apple's music team received "Dragging These Roots" in 2019 when Nashville's publishing community sent it for possible inclusion in the program.
"When Apple Music shared the concept with me, I immediately called Frasure on FaceTime from their listening room to let him know I was definitely cutting the song," Jelly Roll told Apple Music. "I'm so grateful to Apple Music for shining a light on all these creators and their great artistry."  
Frasure explained he was "so excited" that Jelly Roll found the song and said it was one of his favorite co-writes.
"I was hoping it would eventually get to see the light of day," Frasure told Apple Music. "Having one of my favorite artists and friends, Jelly Roll, be the one to cut it was icing on the cake. We had a great time going into the studio on this one. He's a truly soulful singer behind the scenes, and he put so much heart into it. I can't wait!"
In addition to the Lost & Found collection, Apple Music is premiering a monthly companion radio show, "Lost & Found Radio," which famed songwriter Lori McKenna will host. The show launched today and features Bannen and the songwriters.
"I'm so thrilled to be a part of this initiative and host the companion radio show on Apple Music Country," McKenna said in a statement. "Every songwriter has a catalog full of lost songs. It's exciting that Apple is bringing these almost hits to life and giving some space to these writers and the stories behind these songs."