CMT Roundup: New Music From Chris Young, Blanco Brown, Jimmie Allen with Callista Clark and more
For more new songs, visit CMT's Roundup playlist.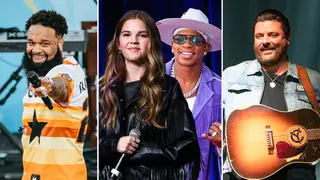 This week's new music has gone to the dogs - at least in part. Chris Young released a duo of songs today and his "All Dogs Go To Heaven" is a tribute to his German Shepard, Porter, which was a gift from his younger sister, Dot. Priscilla Block breaks hearts with "Me Pt. 2" and Blanco Brown puts them back together with I'll never.
As snow blankets Music City, the genre's brightest up-and-comers and biggest stars give country music fans music to remember on what in Nashville, anyway, is set up to be one of the whitest weekends so far this winter.
Chris Young, "Looking For You": Multi-platinum artist Chris Young has proved the cliché motto, 'love only happens when you least expect it' valid in his recent release, "Looking For You." Young co-wrote the romantic melody with Chris DeStefano, James McNair, and Emily Weisband. Together they cultivated a romantic story about finding love in a hopeless place. Young's powerful delivery drives the relatable narrative and exhibits his robust vocals.
"'Looking For You' is a love song. That's one of the things that really helped make me who I am as an artist. It's my bread and butter," said Young in a recent press conference. "It's also a different way to say, 'I love you.' Hopefully, everybody else loves it as much as I do. I didn't write this about anybody. I've been in this situation before, where I was going to be single... and somebody walked in with a friend. I'm like, 'holy crap…who is that? Who is she?'" 
Young also dropped "All Dogs Go To Heaven," a tribute track to his 5-year-old German Shepherd. The two songs follow his back-to-back No.1's "Famous Friends" and "At The End Of A Bar." They also serve as a small preview to his forthcoming project in the pipeline.
Callista Clark & Jimmie Allen, "Wish You Wouldn't":  Callista Clark may be young, but she's wise beyond her years. The 19-year-old songstress joined forces with Jimmie Allen to place a refreshing twist on her wildly popular song, "Wish You Wouldn't." The duet marks one of the four reimagined releases on her deluxe edition of "Real To Me: The Way I Feel." The post-breakup track leans more country-pop, which displays Clark's sassy wow factor and genre-bending appeal. Allen's buttery baritone pipes intertwined with Clark's airy head voice – pushes the relatable storyline along, leaving fans to feel their deep-rooted emotions. 
"Having Jimmie Allen on 'Wish You Wouldn't' is a literal dream come true. He was the only person I wanted for that song—he brings such an effortlessly smooth charm to the song. I'm still ecstatic he said 'yes'!" shared Clark. "I love diving into all types of projects and experimenting with different artists, so I was honored Callista asked me to jump on this song—I'm grateful to be a part of her journey. We met out on the road years ago, and she has become like a little sister to me. She is an incredible talent, and I loved getting to play with the variation between the fast and slow vocals—it's a fun song to sing," added Allen. 
Blanco Brown, "I'll Never": Dripping in steel guitar and a traditional country melody, "I'll Never" is a soulful ballad that declares undying love.
"'I'll Never' is about loving someone the way they need to be loved because everyone needs and deserves love in different ways," Brown said in a statement. "Even if it means looking in the mirror (and) learning to love yourself just a little bit more."
Brown wrote the song with Keith Justice and Allen Arthur. Lyrics include: I'll never stop loving you, holding you, kissing all on you| I'll never stop being me, doing all the things that I do| Even when I'm not around| You at least know a thing or two| I'll never stop, loving you, loving you
Brown also released the song's music video today. He said, "I'll Never," and its video frame love "like a warm glass of my favorite childhood memories," which embraces Brown's bigger message of purpose over everything.
Priscilla Block, "Me Pt. 2": Priscilla Block's authentic southern twang wraps around the lyrics of this heartbreaking and contemplative ballad about her former love replacing her with someone else in a way that makes you believe her. Block wrote the song alone and said it's "hands down one of the most honest songs I've ever written.
"It was 2 o'clock in the morning - just me, my guitar and a piece of paper," she said. "Sometimes it's the simplest songs that hit the most, and for me, 'Me Pt. 2' is that. This past year was really big for me, especially releasing my debut album. When we were selecting songs for "Welcome To The Block Party," we had so many songs to choose from, which is why I'm super excited for the deluxe album. Four more songs that complete the Block Party era."
"Me Pt. 2" is from "Welcome to the Block Party Deluxe Album," that includes four new songs and will be available February 10.