Miranda Lambert Teams With Leon Bridges For New Song
Miranda Lambert wrote "If You Were Mine" with Ashley Monroe and Jesse Frasure with Bridges in mind.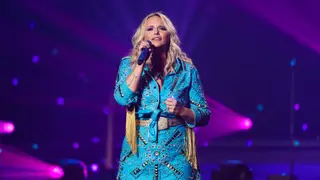 Lambert, who parted with her longtime record label Sony Music Nashville earlier this year, revealed plans to release a duet with fellow Texan Leon Bridges. "If You Were Mine" will be available on Tuesday.
"I have been a big fan of Leon for a while because he is very authentic as an artist, and I love his music," Lambert said in a statement. "I wrote this song with Ashley Monroe and Jesse Frasure, specifically with Leon in mind."
Since both singers are from Texas, Lambert said she and her co-writers threw in several references to their native Lonestar State.
"When we finished this song, we sent it to Leon in hopes that he would want to collaborate, and we were so glad that he said yes," Lambert continued. "I have really enjoyed getting to know him, and I'm happy to have him as a new friend."
Jon Randall produced the song in which the singers marvel at their unrequited loves from a distance and discuss how well they would treat them if ever allowed the opportunity.
"I was humbled to have Miranda ask if I'd join her on this beautiful duet she wrote," Bridges said in a statement. "Getting in the studio with her in Nashville to sing this song together was magic. There's nothing better than two Texans on one mic!"
The new duet comes on the heels of another collaboration that was a first of its kind for Lambert. Her cookbook "Y'ALL EAT YET? Welcome to the Pretty B*tchin' Kitchen" is available now. The book is a collection of stories and recipes, including her mom's meatloaf that they call "the loaf," her mom's chicken salad complete with cheese, Nonny's tuna salad and banana pudding, Heidi's spicy crackers, Lambert's dad's magic green beans, Vicki's deviled eggs and more.
"All these recipes like have just been all of ours for so long," Lambert said. "None of them are mine. I stole them all from them. But that's why I was like, 'This is not a I cookbook. This is a we all cookbook.'"
The food is supposed to be easy so at-home cooks can spend more time with their family than stirring pots.
"It doesn't matter what you're having; it matters who you're having it with," said Lambert's mom, Bev, on Talk Shop Live. "The setting is more important than the products. It could be cheese and crackers, but if we're having cheese and crackers with Heidi, Vicki and Denise, we're good."
"Y'ALL EAT YET? Welcome to the Pretty B*tchin' Kitchen" made the New York Times Best Sellers List.