Emmy Russell Feels Grandmother Loretta Lynn In Her Heart, Will Get On Stage For First Time in Five Years
Emmy Russell will perform with Lukas Nelson Sunday at "COAL MINER'S DAUGHTER: A CELEBRATION OF THE LIFE & MUSIC OF LORETTA LYNN," 7p/6c on CMT.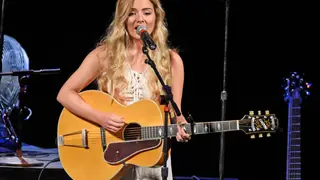 She won't be singing alone. She and Lukas Nelson, Willie Nelson's son, will sing Lynn and Willie Nelson's duet "Lay Me Down." Other performers include Brandi Carlile, Crystal Gayle, Darius Rucker, George Strait, The Highwomen with Brittney Spencer, Keith Urban, Little Big Town, Margo Price, Tanya Tucker and Wynonna, along with special appearances from Barbara Mandrell, Faith Hill, Martina McBride, Sheryl Crow and Tim McGraw.
"It's going be heartbreaking," Russell said. "It's going to be really hard for me to sing it. It's just a really special time because she was the person who introduced me to music and believed in me. So, it's cool to sing it for her as I start my career."
Lynn's public memorial will air commercial-free 7p/6c Sunday on CMT. Two additional commercial-free encores will air 8p/7c Wednesday, Nov. 2, and 11a/10c Sunday, Nov. 6. The special will also be made available on Paramount+ in early 2023.
Russell is nervous about taking the stage, and she knows it will be an emotional experience. She wanted to sing with Nelson so she wouldn't feel exposed and alone. The singer/songwriter said the pairing was her mother, Patsy Russell's, idea and that she and Nelson have already rehearsed and plan to play the song a few more times between now and Sunday.
"I hope it's just as good as how it sounded in rehearsal," Russell said.
Russell, who recently signed with Liz Rose Publishing, has been writing songs since she was 7 years old. Her first memory is of singing "Twinkle, Twinkle Little Star" and the alphabet song with Lynn's piano player on stage when she was a toddler.  
"It was just me and her piano player and everything else was blurry," Russell said. "That's when I kind of knew what I was meant to do. That and watching her sing and writing her own stories and seeing her connect with people are my first memories."
Lynn died in her sleep on Oct. 4 at her home in Hurricane Mills, Tennessee. Her granddaughter said she feels close to the Country Music Hall of Famer in a new way.
"I feel her with me now," she said. "I didn't feel her before with me. I feel her in my heart and really in my spirit. Like, I just really feel her. It's going to be overcoming those overwhelming emotions. It's not even sadness. I can't name the emotion. It makes you want to cry that overwhelmingness I feel for her."