PHOTOS: Scenes From Stagecoach 2018
Headliners Garth Brooks, Keith Urban and Florida Georgia Line Draw 80,000 Fans for Sold-Out Event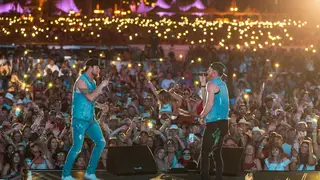 Jason Kempin/Getty Images for Stagecoach
April 30, 2018 / 11:23 AM
Editor's note: An all-new CMT Hot 20 Countdown airing May 5-6 at 9 a.m. ET will have exclusive footage from Stagecoach 2018.
The Stagecoach music festival wrapped another sold-out year in Indio, Calif. with 80,000 fans in attendance for the 2018 festival.
The three-day event (April 27-29) offered performances by more than 40 live acts representing all styles of country music, including mainstream, Americana and southern rock.
Highlights from the weekend included Sunday's (April 29) finale by the CMA's reigning entertainer of the year Garth Brooks with a special appearance by Trisha Yearwood. Keith Urban wrapped his Graffiti U album release week with a headlining performance on Saturday (April 28). Florida Georgia Line's Tyler Hubbard and Brian Kelley on Friday (April 27) welcomed onstage surprise guest Jason Derulo and the "yodeling kid," Mason Ramsey. The 11-year-old is now a new recording artist with Atlantic Records and Big Loud after his performance of Hank Williams' "Lovesick Blues" at a Kentucky Walmart went viral online.
The event also included performances by Kelsea Ballerini, Brothers Osborne, Brandy Clark, Lindsay Ell, the Georgia Satellites, Jason Isbell and The 400 Unit, Cody Jinks, Gordon Lightfoot, Ronnie Milsap, Molly Hatchet, Kacey Musgraves, Carly Pearce, Tanya Tucker, Aaron Watson and Dwight Yoakam.
Enjoy scenes from Stagecoach 2018:
Jason Kempin/Getty Images for Stagecoach
Christopher Polk/Getty Images for Stagecoach
Florida Georgia Line and Mason Ramsey
Christopher Polk/Getty Images for Stagecoach
Christopher Polk/Getty Images for Stagecoach
Christopher Polk/Getty Images for Stagecoach
Florida Georgia Line and Jason Derulo
Kevin Winter/Getty Images for Stagecoach
Kevin Winter/Getty Images for Stagecoach
Christopher Polk/Getty Images for Stagecoach
Christopher Polk/Getty Images for Stagecoach
Christopher Polk/Getty Images for Stagecoach
Christopher Polk/Getty Images for Stagecoach
Kevin Winter/Getty Images for Stagecoach
Kevin Winter/Getty Images for Stagecoach
Kevin Winter/Getty Images for Stagecoach
Frazer Harrison/Getty Images for Stagecoach
Kevin Winter/Getty Images for Stagecoach
Runaway June and Guy Fieri
Jason Kempin/Getty Images for Stagecoach
ason Kempin/Getty Images for Stagecoach
Frazer Harrison/Getty Images for Stagecoach
Frazer Harrison/Getty Images for Stagecoach
Kendell Marvel and Cody Jinks
Jason Kempin/Getty Images for Stagecoach
Jason Kempin/Getty Images for Stagecoach
Frazer Harrison/Getty Images for Stagecoach
Kevin Winter/Getty Images for Stagecoach
Frazer Harrison/Getty Images for Stagecoach
Frazer Harrison/Getty Images for Stagecoach
Jason Kempin/Getty Images for Stagecoach
Jason Kempin/Getty Images for Stagecoach
Jason Kempin/Getty Images for Stagecoach
Jason Kempin/Getty Images for Stagecoach
Matt Cowan/Getty Images for Stagecoach
Frazer Harrison/Getty Images for Stagecoach
Frazer Harrison/Getty Images for Stagecoach
Frazer Harrison/Getty Images for Stagecoach
Kevin Winter/Getty Images for Stagecoach
Jason Kempin/Getty Images for Stagecoach
Matt Cowan/Getty Images for Stagecoach
Jason Kempin/Getty Images for Stagecoach