Chapel Hart And Drake Milligan Represent Country Music In "America's Got Talent" Finale
If you missed the grand finale of "America's Got Talent," no worries! CMT carefully collected the top country moments.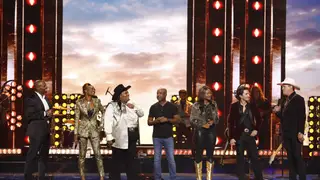 Drake Milligan and Chapel Hart did not walk away from "America's Got Talent" with the grand prize, but the competition turned out to be a big win for country music.
The Mayyas, a Lebanese female dance team were crowned Wednesday (Sept.14) evening, while Milligan and Chapel Hart both scored placement in the finale. The frontrunners made history, as two country music acts have never made it into the top five within the same season.
Chapel Hart, who are part of CMT Next Women of Country family and Milligan won over America with their final performances on Tuesday night, when they went head-to-head with nine other entertainers for the leading spots. The Mississippi ensemble comprised of Trea Swindle, Danica and Devlyn Hart delivered a touching original titled "American Pride," and Milligan performed "Sounds Like Something I'd Do," his crowd-pleasing audition track.
The two-night finale was jammed-packed with show-stopping performances and nail-biting moments. Music icon Darius Rucker and country hitmaker Jon Pardi elevated the electrifying episode, before Terry Crew's announced the official winner.
CMT has collected the top country moments from the season finale, to celebrate Chapel Hart and Milligan's victory.
Chapel Hart tugs at heartstrings with "American Pride."
Chapel Hart brought the tempo down a notch for their final performance with the patriotic anthem, "American Pride." The soul-touching act served as a tribute to the brave armed forces. It also pushed for unity, despite the great American divide.
"I know that we can do this | Hold hands and step aside | Let love pour out between us | Move the hate and let's just try | See, I believe we'll make a difference | One person at a time |Come on now, I can feel it | My American pride," they sing.
The three-minute routine was stacked with their signature harmonies, but nerves derailed the introduction and specific solos. Following the performance, the ladies turned to Twitter to share an a capella version and to acknowledge their shaky vocals.
"Tonight was an emotional night," said Chapel Hart. "First let us apologize sincerely if anyone feels let down by our performance. We wanted to give a tribute to our FAMILY and to the men, women & allies who fight for this country and for unity + freedom! In case you missed it cause the crying," they added alongside a short clip.
Drake Milligan earns a standing ovation with original track
Promising new artist Drake Milligan has made a significant mark on the hit television show with his classic country twang and Elvis Presley-like charm. The 24-year-old hopeful first auditioned with his spit-fire love song "Sounds Like Something I'd Do," which instantly received praise from the distinguished judges.
Milligan decided to play it safe in the finals by bringing back the fan favorite. The Texas native co-wrote the chart-topping track alongside Brett Beavers and Terry McBride. His infectious stage presence and Rock And Roll dance moves, brought the boisterous audience and judges to their feet.
"I already want to buy a ticket to your concert," uttered Sofía Vergara following the act. "You can tell the audience loves you, the camera loves you, I love you," gushed Heidi Klum. "I really think this is going to be the start of your career," added Simon Cowell.
Milligan finished the competition in third place. On the heels of his show-stopping run, the fast-rising artist released his debut album "Dallas/ Fort Worth." To keep up the positive momentum, "Sounds Like Something I'd Do" is slated to go to country radio on Monday, Sept. 19.
Tanya Tucker wishes Chapel Heart Luck
Chapel Heart was left speechless Wednesday (Sept. 14) night when country legend Tanya Tucker virtually beamed in from Nashville to address the trio. "AGT" used Proto Hologram to deliver the heartwarming message.
"Surprise! It's Tanya. Chapel Hart, y'all are so great, and congratulations on everything you do. America's Got Talent… You're right about that," said Tucker.
Following the finale, the "Delta Dawn" singer took to social media to share the memorable moment.
"Surprised @chapelhartband last night on @AGT! You girls r a real winner in my 📓," wrote the country outlaw star on Twitter. "Y'all are so GREAT & CONGRATS on everything! Us girls gotta stick together! This is only the beginning…A dream written down with a date…becomes a goal! Never stop believing in what you❤️ to do!"
Chapel Heart gave Tucker a quick shout-out during their semi-finals performance of "The Girls Are Back In Town." The one-liner in the empowering track caught the hitmaker's attention, and Tucker did not leave the tribute unnoticed. Tucker sent the group words of encouragement in a hysterical Santa suit. The breakout stars said Tucker taught them to be "bold" and "courageous" while chasing their dreams.
Chapel Hart tackles Bonnie Raitt's hit "Something To Talk About" with Darius Rucker
Chapel Hart teamed up with Darius Rucker to deliver Bonnie Raitt's 1991 classic, "Something To Talk About." While sporting eye-catching black and gold ensembles, the ladies kicked off the first verse. Before breaking into the chorus, lead singer Danica introduced the platinum-selling artist to the stage. The group effortlessly intertwined their soulful sound with Rucker's vibrant vocals.
"Like so many people, I was blown away when I saw Chapel Hart's original response to 'Jolene' during their audition," notes Rucker. "Their energy on that stage has been contagious to watch, and I'm honored they asked me to be part of their finale experience – especially to perform one of my favorite songs of all time!"
Drake Milligan delivers No.1 hit "Last Night Lonely" with Jon Pardi
Drake Milligan and Jon Pardi joined forces on the No.1 hit "Last Night Lonely." Milligan took a jab at the lively banger from Pardi's fourth studio album "Mr. Saturday Night," which left fans in attendance clapping along and wiggling in their seats.
While rocking a lavish burgundy blazer, the promising new artist confidently exploded into the introduction. However, it wasn't until the catchy chorus that the award-winning artist jumped in.
"Yeah, you could be the last first name that's ever been worth asking | Yeah, you could be the last phone number I write down on a napkin | Yeah, you could be the last girl that I take back home to Mama | The last time that we're talked about in this small-town drama," the two belt. "It's gonna be the last night coming in here, drinking all by yourself | The last time giving your heart away to someone else | Yes, we could be some history in the making girl, tonight | Might be your last night lonely | It could be your last night lonely."
Shortly after the high-energy set, the country crooner gave Milligan a piece of vulnerable advice.
"You're already here chasing your dream, just stick to it," said Pardi. "You guys are great no matter what. Always believe in yourself, and everything will win that way," he added.