CMT Roundup: New Music From Dierks Bentley with Ashley McBryde, Corey Kent, Caylee Hammack, Willie Jones and more
Listen to CMT's The Roundup playlist, which is packed with all of these songs and linked at the bottom of the article.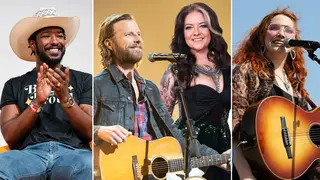 February is the month of love and country music is showing some affection to its fans this week with a wide range of new songs from some of its biggest stars and brightest up-and-coming artists. Dierks Bentley with Ashley McBryde, Corey Kent, Caylee Hammack, Willie Jones, Tony Evans, Jr., LOCASH, Chase Matthew and more have put new songs today. Here's what the singers said about their new music in their own words.
To hear these new songs and more, visit CMT's Roundup playlist at the bottom of the story.
Dierks Bentley and Ashley McBryde, "Cowboy Boots": "When I first really fell in love with Country music, Jim Beam and cowboy boots came along for the ride," Bentley said. "I've had a few pair of boots over the years, many requiring duct tape at times. But, they've been my consistent and steady companion through this crazy ride. Not only does Ashley have one of the best voices in country music, she also always rocked a pair of boots when we were on tour together last year. I wanted someone that I could authentically sing this song with, and I didn't have to look any further than stage left. She's the real deal."
Corey Kent, "Man of the House": "'Man of the House' is the most therapeutic and heartfelt song of my career," Kent said. "I had no idea that people would connect with it the way they have already. The thousands of people sharing their stories in the comment section of the teasers have blown my mind. It's just a kid talking about his real life and other people saying, 'that's how I feel, too.' That's the power of music."
Caylee Hammack, "All Or Nothing": "All Or Nothing" has been persistently burning through my pocket since we wrote it, so I'm thankful it's out!" Hammack said. "This song felt fitting as the introduction to my second album coming later this year. Everybody loves a good old war cry for good love sometimes."
Willie Jones, "Them Girls Do": "'Them Girls Do' gives a peek on what many of us look for in a girlfriend: a chameleon," Jones said. "Someone who can flip it by being proper and polite and then – bam – possess that danger gene. Think '...A little Sunday morning, a little Friday night.' I wrote this song with my friends Nick Autry and Justin Ebach in Los Angeles, at The Penthouse Studios. We wanted a different type of party vibe and when those opening banjo licks get goin', you just wanna turn up. I'm not afraid of a little mischief but most of the time, it ain't me starting it, it's 'Them Girls.'
LOCASH, "Three Favorite Colors": "If you love Country music, college football, and America – we wrote this one just for you," said LOCASH singer Chris Lucas. "United we win! Every time."
"We started performing 'Three Favorite Colors' live in Pensacola, FL, the night we wrote it, and the crowd sang every word of the chorus by the end," added LOCASH singer Preston Brust. "We knew this one was special right away, and it's gonna be an incredible ride with this song!"
Tony Evans, Jr., "Need Somebody": "We've all been in that lonely place before and seeing or talking to that one special person can be the difference that brings you out of it," Evans said. "That's a special feeling that I'm familiar with and wanted to capture on this song."
Chase Matthew, "The Way I Am": "Breakups are never easy," Matthew said. "I think we've all had those moments where you kind of lose yourself in a heartbreak — I know I have. When we wrote this one, we really wanted to explain that vulnerability because it's just so relatable. 'The Way I Am' is one of my favorite songs I've released in a long time, and I'm so pumped for everyone to finally get to hear it."
4Runner, "Ragged Angel": "Kent Wells and Tony Smith produced this track," said 4Runner lead singer Craig Morris. "It's a great, timely song. Just a killer track and our vocals are right where they need to be. We've re-mastered it with all the latest technology, and it sounds better than ever. In the mid-90s there was no one who sounded like 4Runner and there is still no one who sounds like 4Runner."